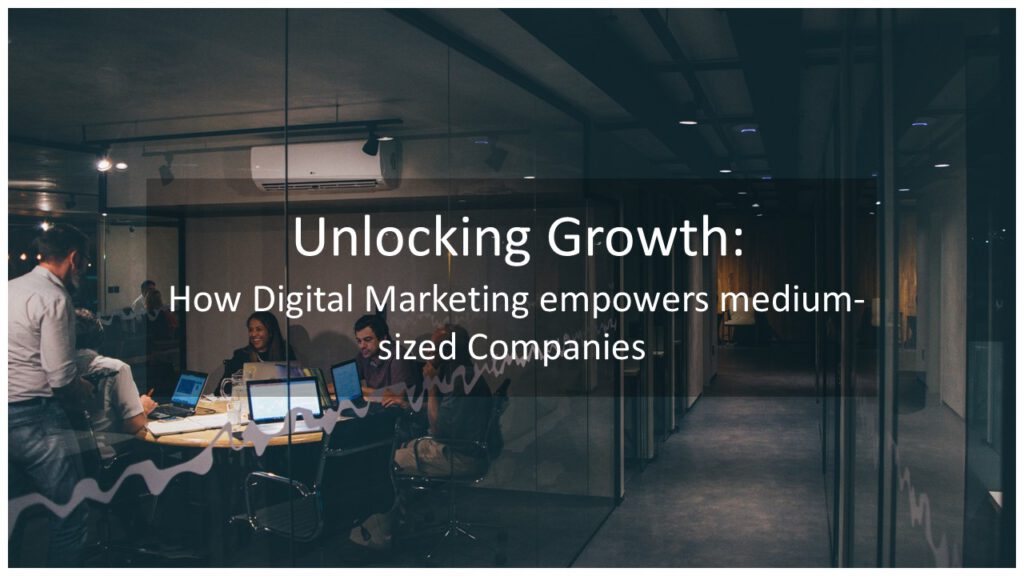 Digital marketing holds enormous potential, especially for medium-sized companies. This begins with the processes, which are set up in a leaner and more customer-friendly manner, through holistic networking to the generation of new customers and markets, as well as significant increases in sales.
But Digital Marketing is so much more than "just" about implementing new software. Digital Marketing also means changes in
– processes
– ways of working
– customer contacts and
– teams.
That sounds like a lot, but only at the beginning. Once the change is initiated and the management and employees are aware of the enormous improvement, then things start to happen. The first step is usually the biggest hurdle.
However, the result and the opportunities that arise from this effort are enormous. I have put together a few good reasons.
1. Data-based Decisions: Digital Marketing provides big data that helps optimize marketing strategies and decision making.
2. Improve Customer Experience: Through Digital Marketing, mid-market companies can provide a personalized customer experience that leads to higher customer satisfaction.
3. Efficient Lead Generation: Digital Marketing offers opportunities to efficiently generate qualified leads.
4. Content Marketing: Digital Marketing enables mid-sized companies to create and distribute high-quality content to build trust and authority.
5. Marketing Automation: by using marketing automation tools, mid-sized companies can make their marketing activities more efficient and scalable.
What experience have you had? Do the benefits coincide with my shortlist? I am happy to hear/read about your experiences.
Many mid-sized companies operate globally, so there are some extra highlights especially for these companies.
1. Global Reach: Digital Marketing provides global companies with coordinated access to a global market and enables targeted expansion.
2. Personalization: by leveraging data, global companies can run personalized marketing campaigns on a large scale.
3. Multi-Channel Marketing: Digital Marketing enables global companies to seamlessly integrate and coordinate marketing activities across different channels and countries.
4. Efficient Data Analytics: global companies can benefit from advanced analytics tools to analyze and gain insights from large and international data sets.
5. Agility and Adaptability: Digital Marketing enables global companies to adapt more quickly to market changes and respond more agilely to customer needs and preferences.
In few areas are the enormous advantages of digitization as clearly visible and tangible as in sales and marketing. Customers now expect a digital presence, personalization in communication, an excellent and simple customer experience, and continuous adaptation to their wishes and needs.
The wonderful thing about my work is that even during the implementation phase, I can already see how the changes are being positively received by customers and how sales are already increasing. Few other business management projects show positive results so quickly.
Have you already started the Digital Transformation in your company? Are you already using your tracked customer data to optimize your activities and processes? Do you already know the enormous growth that results from it?
Write me your experiences, I look forward to an interesting exchange.