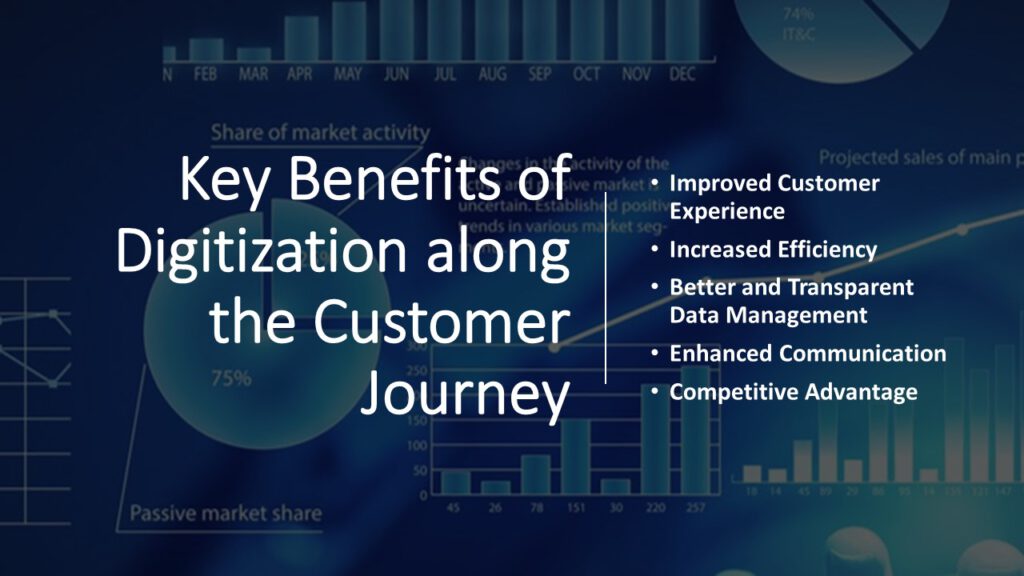 My conviction and focus in Marketing lie in Digitization along the Customer Journey. Digital Marketing makes it possible to respond much better to Customer Preferences at all stages and thus create a high level of ADDED VALUE for the Customer.
It's a mystery to me why some companies still don't take advantage of these enormous benefits, such as
1. Improved Customer Experience: Digitization help to streamline and automate processes, making it faster and easier for customers to complete transactions or get the information they need. This leads to a more positive and satisfying Customer Experience.
2. Increased Efficiency: Digitization help to eliminate manual processes and reduce errors, saving time and increasing efficiency. These free up resources to focus on more high-value activities.
3. Better and Transparent Data Management: Digitization help to capture and organize customer data more effectively, enabling businesses to gain insights into customer behaviour and preferences. This enable targeted Marketing Campaigns and personalized Customer Experiences.
4. Enhanced Communication: Digitization enable businesses to communicate with customers in real-time, through multiple channels, including email, social media, and chatbots, what improve responsiveness and Customer Satisfaction.
5. Competitive Advantage: Digitization provide businesses with a competitive advantage by enabling them to offer new products and services, improve customer engagement, and increase operational efficiency.
Are you already using the possibilities of Digitalization in Marketing? What success have you been able to achieve?
I could add many more benefits to this list. In the meantime, the use of Marketing Automation and AI software has become a lot more intuitive for user. The integration into the existing IT infrastructure is possible without much fuss. Overall, Digitization can help businesses to transform the Customer Journey by delivering a more seamless, personalized, and efficient Customer Experience.
Do you have any idea why companies are still not taking advantage of Digitization in Marketing? I am interested to understand what the reasons are.
Contact me to speak about your possibilities along Digital Marketing. Check out my Offer https://pfisterer-marketing.com/digital-transformation-offer/