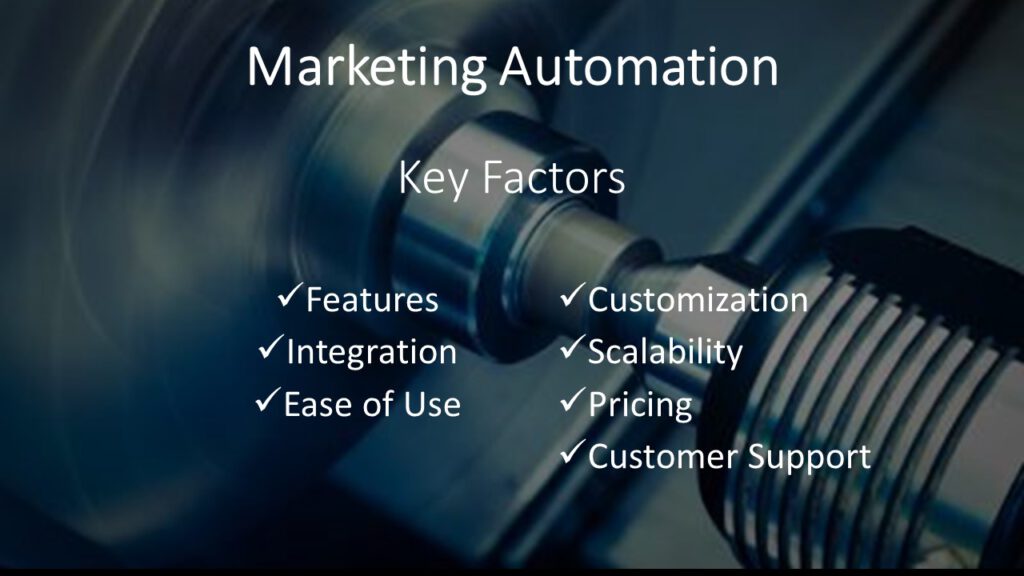 Marketing Automation brings a huge advantage in additional service and revenue with existing customer and lead generation. According to this great benefit for ALL companies, many providers have entered the market. According to the different needs of the customers, they offer different features.
Therefore, when choosing Marketing Automation software I pay attention to several key factors. Here are some points to look for:
1. Features: Consider the features that the software offers, including email marketing, social media marketing, lead management, analytics, and reporting. Determine what features are essential for your business and make sure the software has those capabilities.
2. Integrations: Check if the marketing automation software integrates with other tools and software you use, such as CRM, social media, and eCommerce platforms. This can help streamline your marketing operations and data management.
3. Ease of Use: Choose a software that is user-friendly and easy to navigate, with an intuitive interface and simple workflows. It should also offer support and training resources for your team to get up and running quickly.
4. Customization: Look for a platform that allows you to customize and tailor your marketing campaigns to your specific audience and business goals.
5. Scalability: Consider the software's ability to grow and scale with your business as it expands, without having to switch to a new platform or incur additional costs.
6. Pricing: Evaluate the software's pricing structure and determine if it fits within your budget, including any additional costs for add-ons, training, and support.
7. Customer Support: Ensure that the marketing automation software provides adequate customer support, including technical assistance, training, and resources for troubleshooting and problem-solving.
The selection of the right software is an important point of my projects. It already gets the teams in the right mood for the upcoming changes and at the same time shows them the possibilities, automations, and extensive transparency of customer data.
What criteria did you use when selecting your Marketing Automation software?